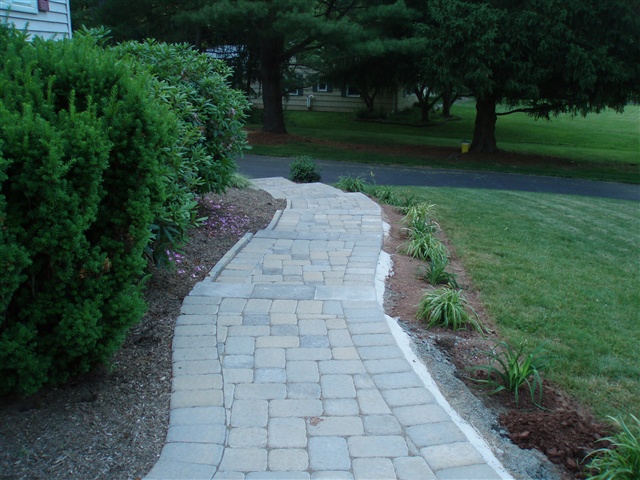 Morris County Hardscaping Contractor for Paver Walkways
Long gone are the days of a straight sidewalk leading to the front door. Every walkway we install has contours and shapes accenting the home, plant beds, and flows to the doorway creating a smooth transition between functional spaces and living areas. Stairs and adjoining retaining wall areas can be added for properties with steep grade transitions. Get the best paver installations when you turn to the New Jersey contracting team at Patio Bob!
Custom Paver Walkways
Our team of contractors have years of experience in the field and have worked with an assortment of different materials in various paver walkway projects. We will work closely with you to ensure that your vision is achieved and will do so in the budget you allotted. All the walkways we install are custom done to suit your exact needs and specifications.
RM Landscape Construction has years of experience providing homeowners across Morris County, New Jersey with dependable landscaping and paver projects. This includes custom walkways, patios, and outdoor living areas. Create a stylish entryway to your home. If you're interested and would like a free consultation for our services, please contact us today. The number to call is 973-347-6667. We will kindly answer any questions or concerns you may have about our services.
Check out our gallery of custom walkways, we have professionally installed for homes across Morris County, New Jersey using industry standardized methods. We are also a certified ICPI Installer. We will work with you to ensure proper placement of the walkway or pathway for your home. Whether you are creating a pathway to your front door or to the pool in your backyard, our paver and hardscaping services will get the job done. And do so in a budget that you can afford!