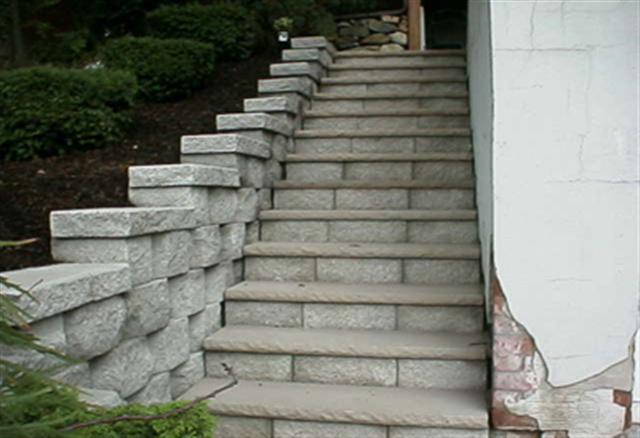 Stairs are often more than a design feature.   In addition to providing ease of access over drastic elevation changes, steps can provide a point of interest to a project, while  adding functionality.      Perhaps the stairs you have are falling apart, new stairs will make entering and exiting safer. So you do not need to break your budget in order to pay for it.
Solid Stair Construction
Steps, like any other project, require a stable foundation, approved construction methods, and attention to elevation details.    To many steps can create problems, and in the same way, to few steps can fail to achieve a proper pitch for the interconnecting walkways, or landings, and leave you with steep grades.   Using the industry correct stair construction methods and following the national standards for both stair elevations, and adjoining surfaces slope will provide comfortable access to walk or sit.
Types of Solid stair construction
Steps can be constructed many different ways, and often, the specific application will dictate the type of stair construction that is provided for your project.   Stone faced steps often require a poured concrete surface, while a segmented retaining wall adjoining a set of steps may use those same wall stones to integrate the steps into the wall.
For more information about adding or repairing stairs for your home, please contact us today. We will happily answer any questions you may have about the work. The number for our office is 973-347-6667. When you call, we can provide you with a fair and accurate estimate once we consult with you.   You can also see some of our more current projects at Facebook  RM Landscape Construction