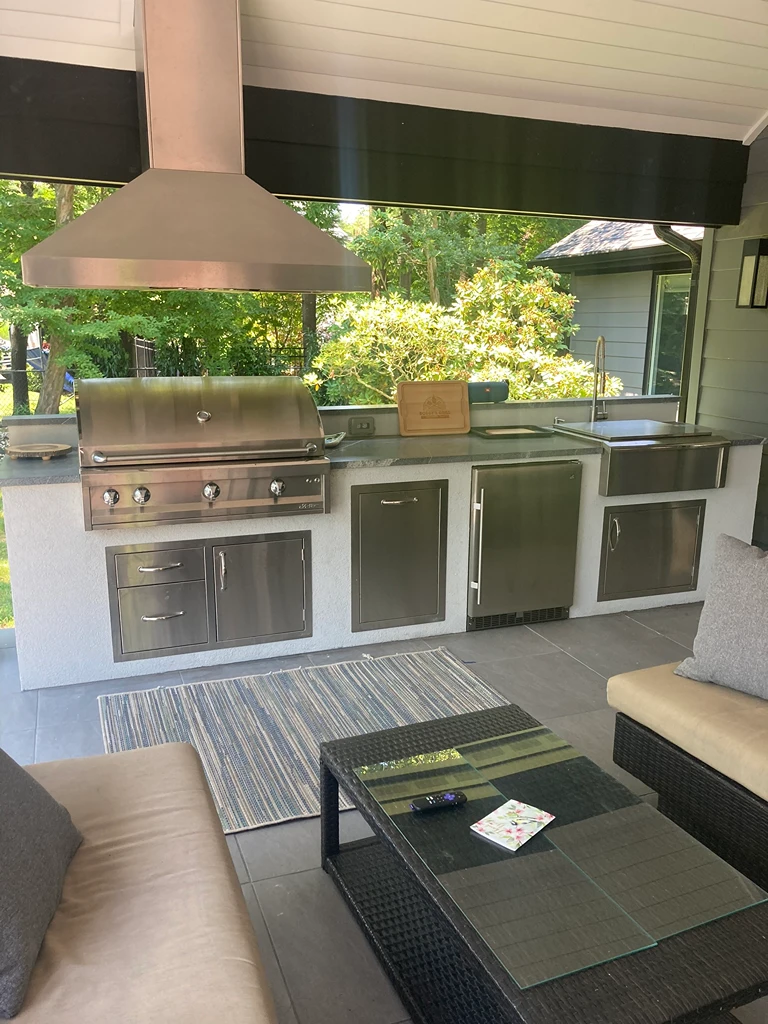 Outdoor Kitchens at their best

Outdoor Kitchen Photo Gallery Below

New Jersey's finest outdoor bar, grill & kitchen experts. Servicing Morris County & surrounding areas.

More Outdoor Kitchen Photos
Working With Homeowners Across Morris County, NJ
Outdoor kitchens make a wonderful addition to any home. So if that is something you were thinking about getting, then RM Landscape Construction is the contracting company for you! We provide our contracting services, which includes professional installation of beautiful outdoor kitchens, to residents throughout Morris County, New Jersey with an array of contracting services, including the complete installation of outdoor kitchens. Make you backyard the place to be when the weather is nice! Outdoor kitchens can act as the finishing touches to your patio and can provide depth, points of interest, additional seating, and social areas for the ultimate in comfortable outdoor living areas. RM Landscape Construction can help to create the outdoor kitchen of your dreams! Turn your ordinary backyard into something special with a stylish, new outdoor kitchen.
We will work closely with you on the project to ensure that your vision is ultimately achieved. We have experience working in a variety of settings and with various materials, so we can help create an outdoor kitchen no matter the circumstances.
Outdoor Kitchen Benefits
Adding an outdoor kitchen offers the homeowner numerous benefits. One of the most important benefits is the simple fact that it will improve the property value of the home if you ever decide to move out. So not only will you be gaining a short-term benefit, but adding one offers that long term benefits too. It is a great investment for any homeowner.
But let's talk about the short-term benefit. Or short if you are eventually going to move out. Otherwise, it is a lifetime benefit. Installing an outdoor kitchen in your backyard will add to the space of your home. It is nice to hang out with friends and family outdoors, especially when the weather is nice. Have a summer BBQ right on your back porch and have everything you need right outside. No need to run back and forth inside and outside the home to use the kitchen indoors.
Get A Free Estimate Today!
RM Landscape Construction has years of experience providing homeowners across Morris County and New Jersey with the best contracting services in the area. We have helped many homes install outdoor kitchens that were stylish and affordable. Get some inspiration and check out some previous bar and grill installations. Also feel free to look over some cabinets our contractors can install during the process of completing the outdoor kitchen.
For more information about adding an outdoor bar & grill or a kitchen area, then please contact us today. We will gladly answer any questions or concerns you may have about outdoor kitchens and their installation process. The number to call is 973-347-6667. When you call, we can provide you with a free consultation and go over any budget concerns you may have about the upcoming project. Once we have a handle on what you want, we can provide you with a fair and accurate estimate. So please, do not hesitate to reach out today!