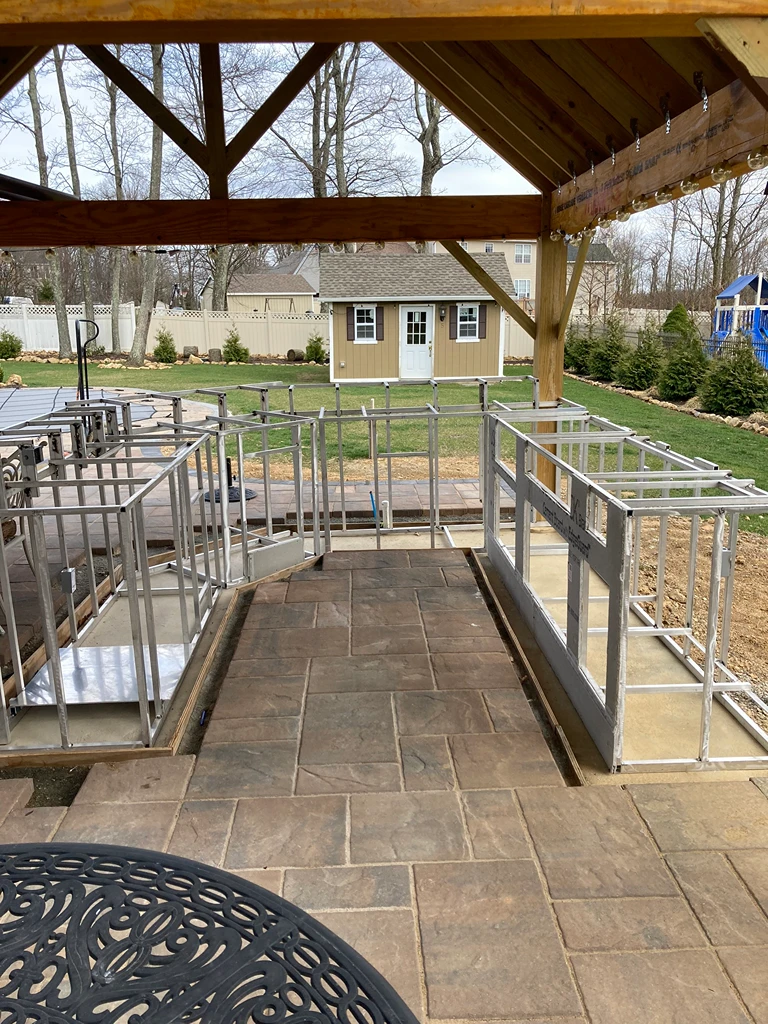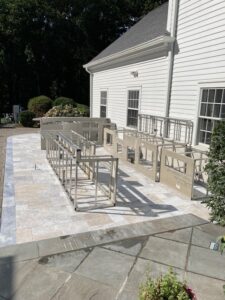 Outdoor kitchen construction has traditionally been built out of concrete block or landscape block.   They were heavy, usually required footings, and in the event of needing a component replaced, also very difficult to modify once built.    Steel or concrete lentils were required to span openings, and door and drawer supports required additional block to be mortared in place.    Prepping the openings during initial construction was difficult enough, but modifications to accommodate a different grill, years later, resulted in many abandoned units or complete tear outs of these islands.
Additional concerns using traditional construction methods include veneer failure, or entire kitchens settling due to poor foundations, often resulting in cracked countertops.
New methods of outdoor kitchen construction, while achieving the classic "stone finished" look have become the preferred method of contractors and homeowners installing these outdoor living areas.   But buyer beware!   Not all construction is the same!
The Galvanized Stud method of building an outdoor kitchen.
15 years ago we started to build our very first island out of these "galvanized studs" that have become a popular method, to this day, of constructing an outdoor kitchen.    Well, about half way through our very first project, we realized we had, what amounted to, a rickety, non structural, and ready to rust" unit.    The only thing that was going to make the frame strong, was the addition of the backer board.   I don't care what you read on internet, 20 gauge, galvanized studs, are not designed for outdoor use!    Any hole, rivet, screw, or scratch that occurs during outdoor kitchen construction will provide a point of entry for rust.    In addition, you can not weld galvanized, as it is toxic.  The correct way to weld galvanized steel is to grind off the galvanization, and then weld.   Hmm....now you have a rusty weld point, with no protection.
Needless to say, half way through our very first project, we took that island and threw it in the trash.   Not one customer we have ever served has had an island built by RM Landscape Construction using galvanized studs!   We don't even like to do any repair work on these types of galvanized outdoor kitchen construction islands when we get calls for them.
Outdoor Kitchen Construction using The Box method.
Lots of companies are selling individual "boxes" that need to be bolted together for outdoor kitchen construction.   It is a one size fits all approach and can be made from either galvanized studs, or aluminum tubing.    We have already covered why galvanized studs don't work,  so lets concentrate on the aluminum frame construction "boxes" our competitors are using.    First of all, one size does not fit all.    Every box has a specific range of uses, and sizes of components.   Even the preassembled boxes still need to be bolted together at your home, end caps bolted on, and then every unit leveled to both the foundation, and each other.   In addition, the openings are generally not finished, a backsplash is not an option, and no drawer, or door supports are even offered.    You have to finish the openings with some suppled screws, bolts,  and brackets.
  That might be all be fine and good for your particular project, but we have also found is that most of these companies offering "boxes" aren't putting enough additional support studs in for your stone veneer to stay in place.     For example, a 24" "box" will have 4 corner supports.  But then a 48" "box" will have 4 corner supports and...wait for it...4 corner supports, and nothing, not one single additional stud in between.   Your home has studs every 16" and at least 1/2" plywood framing, so why would your outdoor frame have less?   Some of these "boxes" are coming with 1/4" hardibacker nailed onto the few studs they have.   That is just asking for failure!   Forces such as wind, the ball getting kicked around yard, even the opening and closing of components, will create vibrations that will quickly cause that stone facing to fail.
Our method of Outdoor Kitchen Construction.
RM Landscape Construction has spent the last 15 years designing, building, and installing outdoor kitchen projects.    For our outdoor kitchen construction we only use custom designed and built, welded, all aluminum frames.  Our frames are 1.5" x 1" rectangular and 1" x 1" aluminum square tubing.   Studs are generally less than 14" apart, ends of unit have an additional center stud.   Openings are finished prior to delivery, door/drawer supports are welded in place.   1/2" backer board is both glued and screwed onto the frame.   Our frame is even sanded prior to glue application.  We do not need the "backer board" to create strength and structure to hold the unit together.   Our frames can stand alone under any conditions.
 Very large units (over 16') are often delivered to the jobsite and then hardibacker installed on site.    Smaller units, up to 10' can be moved and set by 2 people, even with all hardibacker (and stucco finish if desired) installed.  Just set our units in place, level, and start stonefacing.     The countertop companies "love" our outdoor kitchen construction methods.   They  can be confident they will never have a problem with the countertop cracking or failing.    Plus ,we install extra supports where needed for the countertop company to seam,  where needed.
We can do "custom" just about anything.   We do many straight and L shaped islands every year.  Curves,  extended backsplashes, drop counters, complex angles, extended seating,  or bar seating concepts are just a few of the examples of the added benefits of using RM Landscape as your outdoor kitchen construction contractor.   We have built islands that need to wrap around posts, such as under a pavilion or deck,  and even islands that needed to step over an existing curb type structure.    Our attention to detail,  35 years experience in landscape construction industry, and advanced outdoor kitchen cabinet construction methods combines to create the ultimate backyard oasis for your family.
Make sure you follow our more current kitchen projects on Facebook.  RM Landscape Construction or look at some of our other patio projects for ideas for your own home.