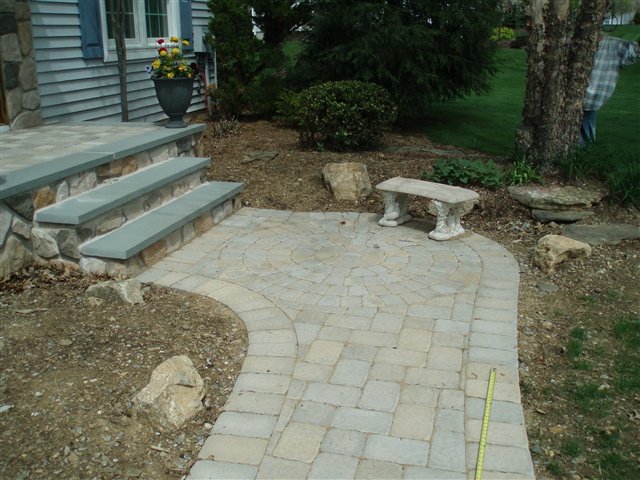 RM Landscape Construction is proud to offer a wide range of contracting services, including the installation of paver walkways. Our service area extends to homeowners across Morris County and northern New Jersey. All of the paver walkways we install are custom installed according to your specifications. Add a touch of elegance on the stroll up to your front door and wow guests before they even get into your home. We will help you budget and plan this project. Don't trust anybody else but the best!
So, if you are in need of some paving experts for a new job, please reach out to us today. We are located in Mt. Olive, New Jersey and serve homeowners throughout Morris County, NJ. The number for our office is 973-347-6667. When you call, we can provide you with a free consultation and estimate for our paving services.
Types of Materials for Paver Walkways
There are three basic types of paver materials we use for walkways:
natural stone
brick
concrete
Each of these materials comes with various benefits, styles, and colors. We will help you choose the one that will look best for your property.
Natural stone is more expensive than bricks and concrete, but that is because you get a great look with it. Flagstone or fieldstone are the two most common types available. Limestone is the strongest and is often used for edging. However, it can break under pressure. This means it is not great for high-traffic areas, so be sure to know how popular a path this material will be.
Bricks for pavers are typically made of clay or concrete and then dyed to look like brick. It is very strong and stain resistant. Sealants can help to prevent fading, but a variety of colors can be used when installed.
Then there is concrete, which is made of molded concrete mixed with aggregate. This material is available in many different colors and styles with interlocking patterns. However, it must be sealed to retain color, but it is very strong and durable.
Get An Estimate Today
RM Landscape Construction is located at 41 Station Road, Mt. Olive, NJ 07828. Our landscape contractors have years of experience installing paver walkways across Morris County, New Jersey. As a trusted landscape contractor, we perform a wide range of contracting services. Paver walkways are one area where we have a particular focus in and provide expert installations of high-quality walkways. Another common outdoor project is the installation of a bar, grill and/or kitchen. Learn more about our outdoor kitchen installations and how they are a great investment for any homeowner in New Jersey!
For more information about our contracting services, please contact us today. The number to call is 973-347-6667. We will happily answer any other questions you may have regarding our installation of walkways. We can provide you with a free consultation and estimate when you call, because we want to go above and beyond for all of our clients.