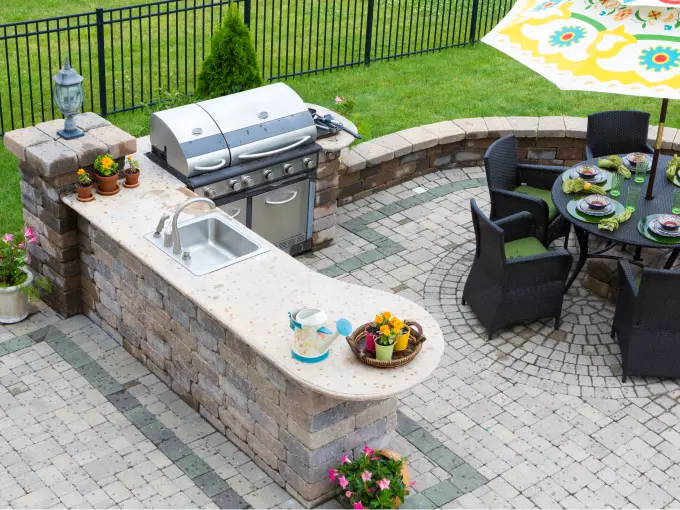 Don't make these 5 big outdoor kitchen mistakes!  
First and foremost, an outdoor kitchen is a extension to the living space of your home.   The proper placement of the island itself, the components, and how the island is organized is very critical to your long term enjoyment of the new space.   All to often, we find persons have an "indoor" kitchen mindset on how to build an outdoor living entertaining space.  The two are quite different, and avoiding these outdoor kitchen mistakes is the key to creating an area you want to use, not just when you are entertaining, but as a daily backyard oasis for your family.
The most common outdoor kitchen mistake we see.
We often get to see projects after they are completed.   Usually for some sort of repair service or modification.    Time and time again we see a severe mistake in the placement of the outdoor living area.   We fully understand that you may be the type to have huge parties that requires significant seating, cooking space, and room for all the guests.   However, we also understand that, under most situations, those huge parties or events aren't a daily occurrence.   It is your Monday-Friday cooking that we concern ourselves with.   Where is that grill going to be placed, so that when you are cooking on it all week long, it is both accessible, and convenient for you to use.    We don't want you walking down a set a steps, and half way across the yard to make a burger on a Wednesday night.    You would be surprised at how many outdoor kitchens we see that are simply not easy to use due to the distance or access.
The second most common of the outdoor kitchen mistakes.
This is an outdoor kitchen!   This is not indoors!    Unless you have a fully covered area, complete with heat and air conditioning, this is not being used as your main kitchen.     You don't need 30 drawer sets!    You are not storing your plates/ glasses/ pots/pans/silverware/ and serving items.    You do need some storage, and every situation is somewhat different.    A pizza oven, for example, often has many accessories that need storage near the unit, but for the most part, none of this storage is functional.    We see more empty drawers in outdoor living spaces than you can imagine.   What are you putting out there?     You can't leave something like paper towels or napkins in the unit since they will get wet.    You end up with a roll of wet wipes!
90% of the cabinets are not waterproof!   These are outdoor storage drawers to hold some of your standard cooking utensils, probably a igniter for candles and tiki torches, a grill scrub tool, and probably your favorite bottle opener.    There are available "Pantry" units that are more waterproof, but very few customers request these, mostly due to the price point.  Be sure to avoid this as one of the common outdoor kitchen mistakes.
The third most common outdoor kitchen mistakes we see
Not enough counterspace.   This is a big one.    You want the biggest,  hottest, emeril looking outdoor kitchen cooking space every made.   All your neighbors are going to be jealous at the size of your grill!    You get that kitchen built with every component you can possibly think of installed in that island!   Good for you!    The day of your first big party, you fire up that grill red hot,  go inside the house, and grab the gigantic plate of food you have ready for cooking.......Like an expert mater dee...... You carefully maneuver that giant platter out to your island, avoiding all the small children and obstacles in your path....With graceful movements a ninja would be proud of,  you just made it to the grill....and then realize, uh oh,  you have no where to put it down....so you set it about 3 feet away from where you are cooking....arg!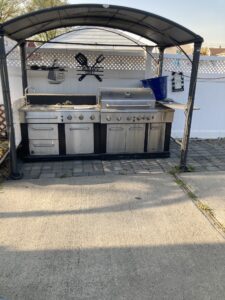 The next of the biggest outdoor kitchen mistakes we see
Stone and countertops.    Stone is a gorgeous element to use.   But it can be one of the biggest outdoor kitchen mistakes you can make if not used properly.     Everyone loves a stone finished island.   We have seen hundreds of examples of stone set properly, and hundreds of mistakes made.   Stone looks best when it is connected to the ground, when it appears to have a solid foundation.    We see many examples of a stone finished island set on top of a deck.   It sort of leaves you scratching your head.    Even if you are not aware of exactly why, and can't specifically point to the reason, something just doesn't look correct.  In the same way bi level home looks odd when they stone face the top of it and the stone appears to be just "hanging".     Stone just doesn't belong on top of wood.  You have never seen a rock wall built on top of a wood deck, so why would your stone island be there?    Stucco, not as desire able, but is the better choice of finishes on a deck, and sometimes on top of a preexisting patio, when you don't want to disturb the original surface.
Countertops are always a challenge.   Bluestone, granite, quartz, marble, wood, tile, concrete are just some of the many options.    This one is slightly harder to generalize due to individual conditions that the outdoor kitchen experiences.   In general colder climates are bad for quartz, tile, and many times concrete.    Some products fade in the sun, have issues with stains, chipping,  or need to be resealed often.   This is one of the few outdoor kitchen mistakes that can easily be avoided by simply asking your supplier the correct questions for your application.     We generally recommend granite as the overall best choice, and bluestone as a second best choice for those living in the northeast part of the country.
The most important of the outdoor kitchen mistakes to avoid.
Pick the correct contractor!    Using a person that "can" put a kitchen in is just as bad as using the lawn service to put your paver patio in.   There is a a reason we specialize in outdoor kitchen cabinet construction, and our experience in both outdoor kitchens and 35 years of landscape construction gives us a unique advantage over our competitors ability to understand all of the details of how these two need to compliment each other to create an outdoor oasis for your family.  Outdoor kitchen mistakes are easy to avoid if your contractor understands all of the details involved.
Wood construction is a big NO NO, galvanized studs are not designed for outdoor use, and steel will rust over time.   Using the wrong contractor opens the homeowner up to major layout mistakes, component opening that are not properly fitted, and improper cabinet construction materials.    Just because a contractor tells you he can put a tile countertop on the island for you,  doesn't mean it is the correct way to install in the northeast.    Be certain any contractor you might be using has years of experience in the installation of outdoor kitchens, has photos of previous projects, understands what all the components purposes are, and can provide you with all the needed information to make that project go seamlessly.    There are a ton of details to installing an outdoor kitchen, and that is the one thing it shares with indoor kitchens, is that is has to be done properly.   Outdoor kitchen mistakes are easy to avoid with careful planning and an understanding of what is involved.
See our current projects on Facebook RM Landscape Construction   or go to our Outdoor kitchen page to see a gallery of past projects. As with any project different contractors will have different concepts, or methods of construction.   Do your homework into both the island construction and the components.    Many of the foreign made components have poor service plans, or even parts only, which means you have to do the repairs yourself.
We only build out of aluminum framing, and that is because it will never rust out, resists heat, and can be used in salt air environments.   In addition our islands are fully welded frames, and 100% complete, with no finish work to be completed by the contractor or homeowner.  Just set, level, and start stonefacing.     Avoid making outdoor kitchen mistakes by calling us today.   973 347-6667