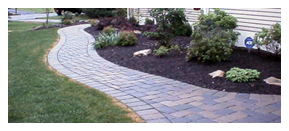 The contractors at Patio Bob have experience working on all sorts of home projects throughout Morris County, New Jersey, which includes the installation of beautiful paver walkways. And we say home projects, but we have also worked on paver projects at commercial buildings too. If you need a walkway, we are your team!
For more information about our contracting services and installations of walkways, please contact us today. We will happily answer any questions or concerns you may have about all that we do. The number for our office is 973-347-6667. When you call, we can go over the various details for the project. This way we can give you an accurate and fair estimate. During this consultation, we will go over the extent of the project with you. This includes the design and materials. So please, for the most beautiful installation of paver walkways in Morris County, New Jersey, turn to the team at Patio Bob!
Beautiful Paver Walkways in Morris County
When it comes to the installation of beautiful paver walkways in Morris County, New Jersey, the contractors at Patio Bob have what it takes! We will work closely with you to ensure the project is exactly what you want. Whether you need a pathway for a home or office building, we will get the job done! We will consult with you about the different materials and prices for the installation. When it comes to paver materials, there are three we commonly use: natural stone, brick, and concrete. Each material comes with its own set of benefits, styles, colors and, most importantly, price.
Natural stone is the most expensive of the three. Flagstone or fieldstone are the two most common types of natural stone available. Then there is limestone, which is the strongest natural stone and holds up the best. So we often use it for edging.
Then we come to paver bricks, which are typically made of clay or concrete. The dye creates the brick-like look. But you can dye the brick many different colors. So it is great when you are looking for different options. This material is very strong and stain-resistant. And the further use of sealants helps prevent fading.
Lastly, we come to concrete, which for paving purposes is made of molded concrete mixed with aggregate. So it is a pretty strong and durable material for a walkway. You can get concrete in different colors, too. It is also available in different styles, such as interlocking patterns. However, a sealant must be used to retain its color.
So if you reside in Morris County, New Jersey and are looking for contractors to install beautiful paver walkways for your home or business, look no further than the team at RM Landscape Construction!