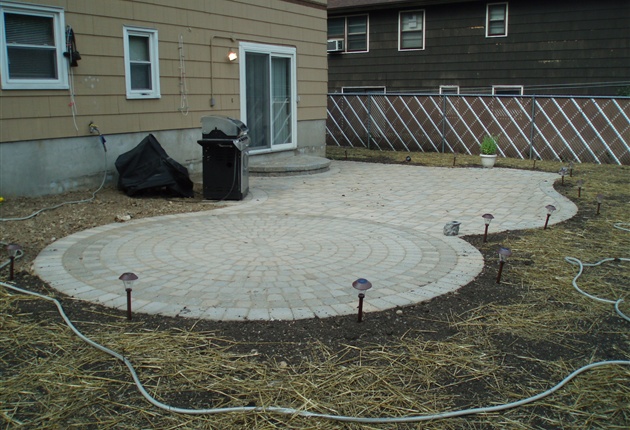 RM Landscape Construction is an ICPI certified installer of paver patios and offers services for homeowners throughout Morris County, New Jersey. Our certification is viable for three major manufacturers. We strive for perfection when it comes to any new home project. Our team of contractors has experience using an assortment of different materials, ensuring that whatever look you want we have the capabilities to complete it to your standards. Polymeric joint sand and concrete edge restraints are just some of the high-end materials that we use.
If you spend a few moments in our picture gallery the first thing you should notice is the lack of squared off,  or rows of anything.    We strive to achieve natural, soft contours, that accent the landscape.    Unless a project calls for straight and formal,  we strive to try to connect with the natural flow of the property, and not look like we forced the plan into the space.
More difficult terrain has often resulted in some of our most amazing projects.    We can design almost anything on paper, but once you find something, such as a hidden boulder, and decide to work with it, as a project detail, instead of against it, now we have recreated the natural flow of nature.  That boulder is no longer an obstruction, but an accent to your home.
We strive to build the best paver patios in our field using industry-standard construction methods. We can design a custom project to meet your needs and will work closely with you to ensure that your vision for the patio is achieved. So what are you waiting for? Please call 973-347-6667 today. When you call, we can provide you with a free estimate to go over the patio project.
Benefits of Paver Patios
A paver patio can withstand heavy traffic and requires little to no maintenance throughout the years, which makes it a great addition to any yard. And laying patio pavers can take only a few days to complete. This includes preparing the site, laying it down, and providing the finishing touches. As a trusted paver patio installer for many in Morris County, New Jersey, we can work quickly and efficiently and install a new patio in no time.
One of the best benefits of paver patios for your backyard is how it allows you to spend time outside with your friends and family. It opens up space to have parties outside. So you no longer have to squeeze everyone into a cramped house. And it raises the property value of the home should you ever decide to move. And not for nothing, our professional contractors will make the patio look gorgeous. So your home becomes more elegant and beautiful in general.
One more benefit of a paver patio is that it opens up room for the space needed to install an outdoor kitchens. These kitchens are great when you host an outdoor party.  Or you can follow us on facebook.  RM Landscape Construction
Call For A Free Estimate
RM Landscape Construction has years of experience providing clients with quality contracting services, including top-notch installations of paver patios in Morris County, New Jersey. For those interested, we provide a wide array of quality contracting services, including paver patios, walkways and outdoor kitchens. Simply put, we are your trusted landscape contractor!
For more information, please contact us today. The number to call is 973-347-6667. We will gladly answer any questions you may have about installing a patio for your home. When you call, we can also provide you with a free consultation and estimate. So please, do not hesitate to reach out and get started on your paver project!